The E word
This appeared on Facebook: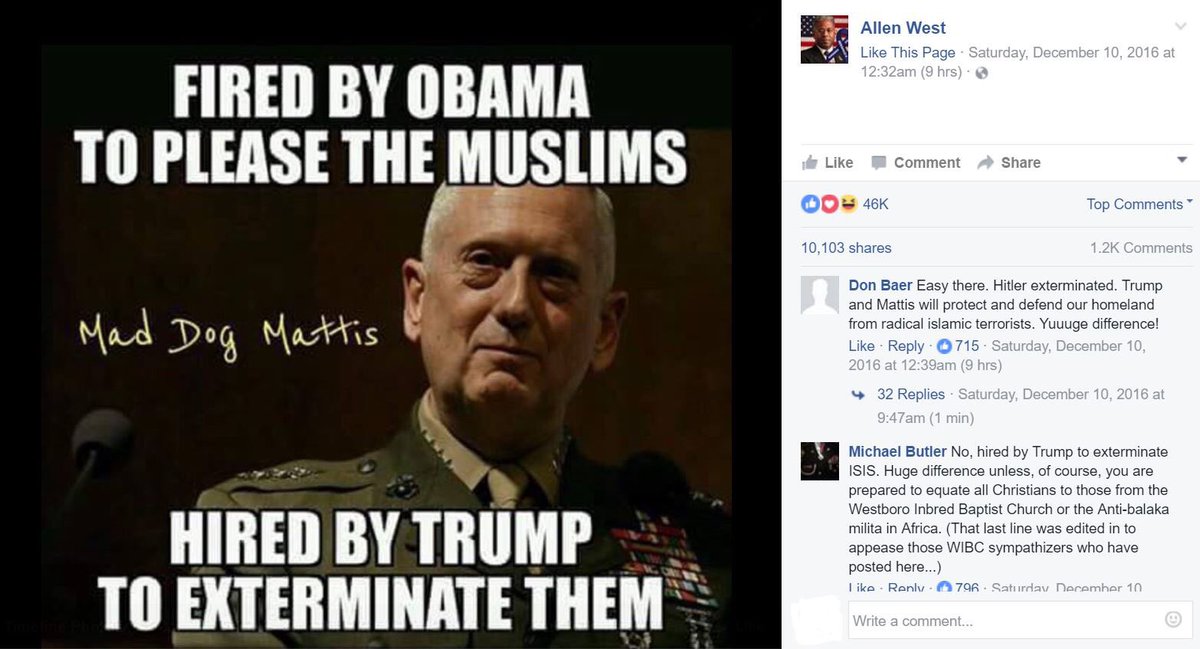 FIRED BY OBAMA TO PLEASE THE MUSLIMS

[Mad Dog Mattis]

HIRED BY TRUMP TO EXTERMINATE THEM
If you go to Allen West's Facebook page to see it, as I did, you won't find it. You'll find nasty stuff, but not that. Instead you'll find an explanation of why it's gone:
Message to our followers: Hello everyone. This is Michele Hickford, Editor-in-Chief of allenbwest.com.

On Friday night, without Allen West's knowledge or consent, a meme was posted to this Facebook page which was reprehensible in its message.

As editor in chief, I must take full responsibility for this, although I was not the one who posted it, and it was posted without my knowledge. I neither condone nor support the message included in the meme.

This meme was not created by me or any of our writers. It was reposted from another source.

The image has been removed. Its message was despicable, offensive to many, and a terrible error in judgement by the person who posted it. Furthermore, it does not reflect Col. West's beliefs, principles and values.

I (Michele Hickford) am deeply sorry for the distress this has caused so many people.
I suppose it was the part about extermination they decided was too much. People aren't ready for that yet.
Who is Allen West? A retired Army Lieutenant Colonel, a one-term Republican congressional representative from Florida, a Fox News commentator. He's been meeting with Trump.