Out of towner
Seattle has a celebrity visitor, all the way from the Arctic.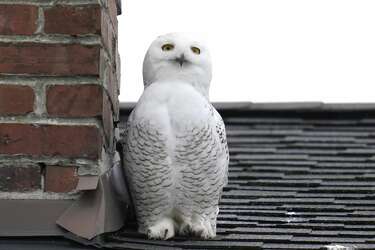 This snowy owl has been wowing residents and birders in Queen Anne.* It is rare for the owls to be seen in this region, and the owls always create a stir in Seattle, where with their striking appearance they can hardly be missed. Their color evokes their usual home in the Arctic. Snowies are the largest of owls, with a wingspan that can reach nearly 5 feet. They also are among the heaviest, weighing in at about 5 pounds. 
I went to see her today. Google actually had the address – apparently she really likes that particular chimney so that's where she spends the day – which made it easy. No joy on the street side, but I'd seen photos of people watching her in an alley so I went around to the alley and sure enough there were people with their professional cameras…and then there was the owl. Snuggled up to the chimney just as in the photo.
I knew a pair at the zoo long ago, but I've never seen a wild one before. Not too shabby.
*Updating to add – I forgot to mention that Queen Anne is my neighborhood (named after the style of architecture, not the monarch). Owl is 5 blocks north and 6 east, in an area I walk around all the time. Talk about lucky.