Nearly 90 percent of us
More than a dozen people were killed in a shooting on Wednesday afternoon at a high school about an hour northwest of Miami [Florida], a law enforcement official said.

The authorities said there were 14 victims, but did not say if they were injured or dead. The Broward County Public Schools confirmed fatalities, but would not say how many.

Broward County Sheriff Scott Israel said the suspect is in custody and the scene is still active.

…

Parkland, an affluent suburb of Fort Lauderdale with a population of about 30,000, is known for its good public schools. Douglas High is among the largest in the Broward school district, with about 3,000 students.

"My prayers and condolences to the families of the victims of the terrible Florida shooting," President Trump wrote on Twitter. "No child, teacher or anyone else should ever feel unsafe in an American school."
But that of course does not mean he is going to do anything to make that "should" anything more than a pious puff of air. Of course people shouldn't feel unsafe in any school, American or otherwise, but in a country awash with guns and in love with violence, it's futile to say that.
How many school shootings have there been in the US so far this year?
18. It's only mid-February, and there have been 18.
We lead the world in gun-having, by a huge margin.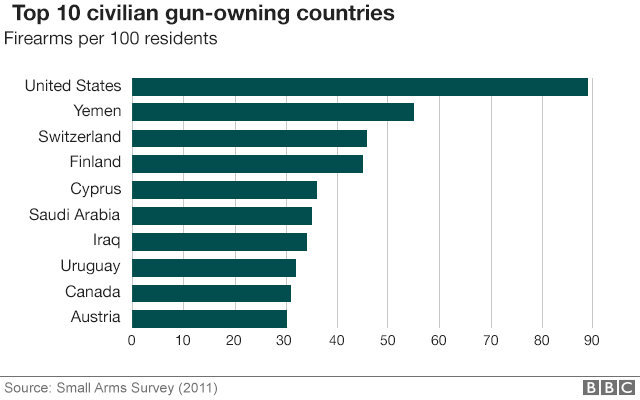 So anyway – thoughts and prayers, y'all.