No edible food for them
On this already full day, Trump is also finding new ways to trample human rights.
The Trump administration announced on Wednesday a plan to eliminate a federal court agreement and replace it with a regulation that would allow the government to indefinitely detain migrant children with their parents.
Of course it did. When there's an opportunity for rich white people to torture impoverished brown people, Trump's your man.
By replacing the agreement, known as the Flores settlement, the government could dramatically expand family detention and increase how long children are held in custody. The government would also have more power to determine the standards of care for children and families in custody.

The Trump administration has prioritized ending the decades-old Flores agreement, which says the government must hold children in the least restrictive setting and release them as quickly as possible, generally after 20 days in detention. A legal team representing migrant children is also allowed to monitor the government's detention practices under the terms of the settlement.
Can't have that. Gotta hold them as long as possible, and make them as miserable and sick as possible while they're there.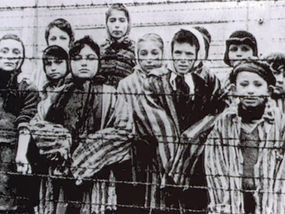 A lawyer for the migrant children in the Flores case, Holly Cooper, said the legal team would file a response to the Trump administration rule after it is formally published. "Because the federal government is publishing a final rule on the heel of multiple findings of violations of the Flores settlement agreement it is incumbent on us to protect those interests," Cooper said.

As part of the Flores agreement, a federal appeals panel found last week that detained children should get edible food, clean water, soap and toothpaste after the government argued hygiene products did not need to be provided. It was also a team of Flores attorneys who raised the alarm about dire conditions for migrant children at border processing facilities in June.
The Trump administration is publicly saying it wants to deprive migrant children of edible food, clean water, soap and toothpaste. Trump and his people want that to be government policy.
California's attorney general, Xavier Becerra, condemned the Trump administration plan and said the state was prepared to "defend the human rights of children".

"Children don't become subhuman because they are migrants. All children are God's children, our children, and America should never treat them otherwise," Becerra said in a statement. "Yet, the Trump administration is about to take America down that dark road stripping protections that spare children from the trauma and harm caused by unlawful, cruel and prolonged detention."
Let's not go down that road.