Treated like an untouchable
Speaking of menstruation…the Independent reports:
Teenage Nepalese girls from Sindhuli, 130 kilometres southeast from Kathmandu, took pictures to document the restrictions imposed upon them during their periods as part of a campaign by charity WaterAid, challenging taboos and improving female sanitation.

Every month in Nepal, the girls are separated from their families, forbidden [to look] at the sun, touch fruit and flowers and even stay in their own homes.  In Nepal girls during their periods are considered to be 'impure' or 'contaminated'.

The tradition is called Chhaupadi, popular in  western-nepalese hindu communities; it is common for girls to remain excluded from interaction with the family for up to 6-10 days, childbirth can also result in a 10 day exclusion.
The Supreme Court outlawed Chhaupadi in 2005, but of course it continues anyway.
Manisha, 14, who took part in the project explained the limitations put on her during her when she began her first period: "I stayed at someone else's house during my first period. I wasn't allowed to go to school and, on top of that, I wasn't allowed to even read a book. It was a wrong belief that we shouldn't study during menstruation."
I hope someone at The Establishment reads this story.
Barbara Frost, WaterAid's chief executive shared the charities motivations to conduct the project:  "The silence and stigma that surround menstruation impinges on girls' everyday lives. Furthermore, when there are no safe, private toilets in schools, girls often skip school during their period, or drop out of school altogether once they reach adolescence. With nowhere hygienic to clean sanitary pads or wash, women and girls also risk infection"

"Being able to deal with periods in a hygienic and dignified way is crucial to women's wellbeing. It helps women feel that they are able to play a full role in society, no matter what time of the month."
Being able to deal with periods in a hygienic and dignified way means being able to do so in private but not in seclusion. There's a difference. The difference of course is in who gets to decide: it has to be the girl / woman who decides.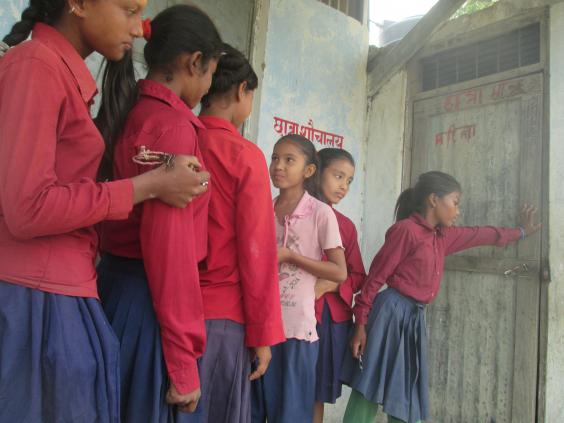 Sushma Diyali,15: "This is the girl's toilet of our school. We are in urgent need of MHM friendly toilet. The one we use doesn't lock properly. If someone is inside, other person has to wait outside pushing the door for her. Because of lack of latrines in our school, we have to wait in the long line. This is very problematic for us and we are need of more girls' friendly latrines." (WaterAid)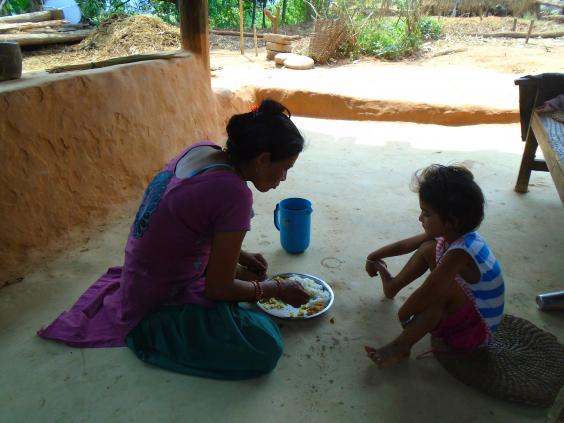 Bandana Khadka, 15:  "This is my mother and sister in the picture. Here, my mother is feeding my sister with so much of love. Mother loves me very much as well. However, during my menstruation cycle I am kept separately and have to eat at distance. When nobody touches me, I feel unloved. We need lots of love and support during our menstruation but, when I am separated and treated like an untouchable I feel no love from my mother and father and I feel only hatred. I feel sad being treated that way." (WaterAid)
This project was part of a Uk aid programme WaterAid are running across Nepal, to improve girls' ability to manage their periods. For more information visit:www.wateraid.org