Will not be silenced
Joanna Cherry, the Edinburgh South West candidate who successfully campaigned for her Labour opponent Frances Carmel Hoole to be deselected for posting a derogatory tweet, said there was a "big dose of misogyny" in the debate over whether people can declare their own gender without medical certification.

Ms Hoole posted a picture of Ms Cherry with the words: "Bang and the Terf is gone".
This one: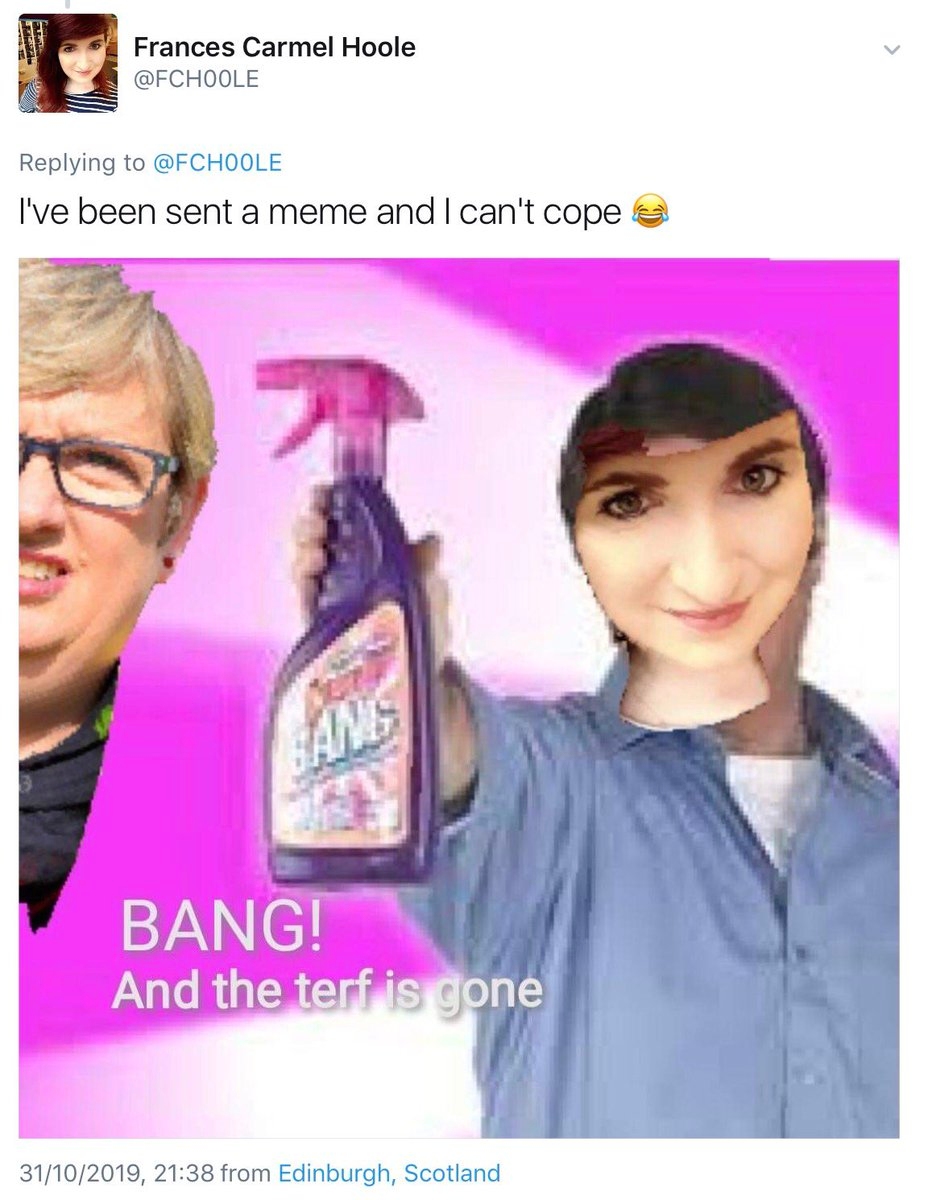 Ms Cherry said the debate had become "utterly toxic" and she had received death threats.

The row spilled over into a full-page advertisement in The Herald yesterday calling on Joan McAlpine, the SNP MSP, and Jenny Marra, the Labour MSP, to resign because of claims that they invited transphobic speakers to the Scottish parliament.

The advert, written in Scots and promoted by an organisation called Anent Transphobia, accused the MSPs of "emotional abuse" of the "vulnerable trans community".
As opposed to the women community, which is notoriously invulnerable.
All three politicians said they would not be silenced by transgender lobbyists. On the Political Thinking podcast, hosted by the BBC journalist Nick Robinson, Ms Cherry said: "I am a lesbian and have been out for 30 years, and came out at a time when people were losing their jobs as a result of being gay, and when there weren't equal rights for gay people.

"I also come at it as a feminist, and I have never said that I was not in favour of trans rights. In my former life as an advocate I worked for three years as a specialist sex crimes prosecutor, and prosecuted for rape, sexual offences and a large number of historical sex abuse cases.

"So I have good reason to understand the vulnerability of women and girls to sex abuse from male-bodied individuals — from men."

…

"Like many other feminist politicians, and indeed male allies in the SNP and the Labour Party and indeed now the Lib Dems, I have concerns that rushing through self-identification legislation without looking at the impact on the Equalities Act could have unintended consequences."

She criticised Twitter for suspending the accounts of women who "say things like 'women don't have penises', stating a biological fact".

"There is a big dose of misogyny in this debate, and I am just not prepared to give in to it. I won't be bullied, and I won't be silenced," she added.
The bullying makes some of us louder instead of quieter.
In a joint statement, Ms McAlpine and Ms Marra called the advertisement "another attempt to smear and silence women for talking about their rights".

They said: "It will not succeed. The Declaration of Women's Sex Based Rights, a document that underlines the fact that much of the discrimination and violence that women experience globally — including FGM [female genital mutilation], selective abortion, rape, sexual exploitation and maternal mortality — is related to their sex at birth, not their 'gender identity'.

"It is not 'transphobic' to discuss these matters and to ensure that the laws we pass protect all groups of people, including women."
Tide turning?