Mother and baby doing well
From the cheerful news column – a successful gorilla birth at Bristol Zoo:
Keepers arrived to find the new arrival nestling in the arms of its mother.

Photographs taken just hours after the birth on Wednesday show Kala – a nine-year-old western lowland gorilla – cradling the newborn. Staff said both were "doing well".
They say "its mother" because the zoo doesn't know the sex yet and won't for a while. Kala's first infant was via emergency caesarian section and didn't survive.
Lynsey Bugg, the zoo's curator of mammals, said: "We knew we were having a baby gorilla due and we've been on baby watch for a little while.

"On Tuesday Kala looked nice and comfortable and not causing us any concerns or worries.

"I came in [on Wednesday] morning to find a brand new baby in the house. It was lovely."
Captive great apes don't always know what to do with an infant, but not in this case.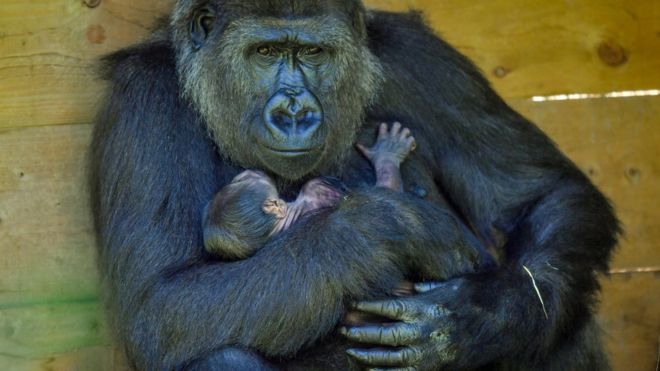 That's a good mama.