Note: written before violence
More insurrection-cheerleading, this time from the woman who is married to Clarence Thomas.
She did the cheerleading before the insurrectionists smashed their way into the Capitol, but that still entailed cheerleading a campaign to overturn an election and hand it to the murderous corrupt criminal who lost. She shares in the evil.
On Wednesday morning, Ginni Thomas—wife of Supreme Court Justice Clarence Thomas—endorsed the rally in Washington demanding that Congress overturn the election. She then sent her "LOVE" to the demonstrators, who violently overtook the Capitol several hours later. Two days later, Thomas amended her post with the addendum: "[Note: written before violence in US Capitol]." By that point, five people involved in the insurrection, including a Capitol Police officer, had died.
It took her two days. So she didn't do it while people were tweeting from inside the Chamber, or an hour or two later as all those photos and clips started to appear. She waited two days.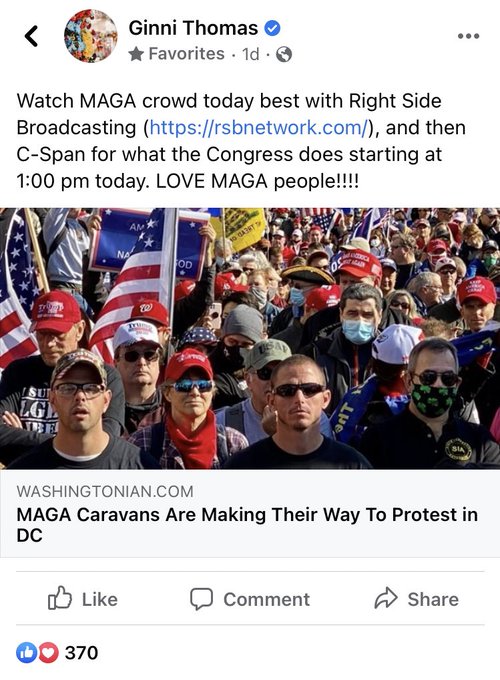 Thomas, a conservative lobbyist and zealous supporter of Donald Trump, has fervently defended the president over the last four years. On her Facebook page, she frequently promotes baseless conspiracy theories about a "coup" against Trump led by Jewish philanthropist George Soros, a frequent target of anti-Semitic hate. Thomas draws many of these theories from fringe corners of the internet, including an anti-vax Facebook group that claimed Bill Gates would use the COVID vaccine to kill people. In recent months, she also amplified unsubstantiated corruption claims against Joe Biden while insisting, falsely, that the Obama administration illegally spied on Trump's 2016 campaign, then tried to rig the election against him.
Watergate seems almost cozy in comparison to these people.
H/t What a Maroon