Working 24/7
Well, you see, it was a very warm weekend.
Tens of thousands of people packed southern California beaches over the weekend, reigniting fears that large crowds in public spaces could reverse progress on containing Covid-19 in the US.

Photos of the gatherings in Newport Beach, Orange county, during a weekend heatwave sparked intense backlash and comparisons with Florida, where images of beachgoers raised alarms about the state's coronavirus strategy. In recent days, beach and park reopenings have also prompted debates and public health concerns in Texas, Georgia, Mississippi, South Carolina and other regions looking to re-emerge from lockdowns.
But isn't there some kind of magic thingy where crowded beaches don't count? Because the sand scares the virus away? Something like that?
On Monday, California's governor Gavin Newsom chastised those who crowded the beaches, saying "this virus doesn't take the weekends off".

"This virus doesn't go home because it's a beautiful, sunny day along our coast," the governor, who last week urged beach-goers to practice physical distancing, said at his daily news briefing.
Ok it doesn't go home but maybe it dozes while getting a tan, instead of infecting people?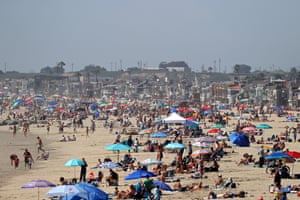 Not very social distance.