No racist and misogynistic culture to see here
A woman who complained of a racist and misogynistic culture in a Scottish government department claims she was taped to a chair and gagged by two male colleagues as a warning to keep quiet.

DeeAnn Fitzpatrick said the restraint took place amid years of bullying and harassment at Marine Scotland's Scrabster office.

The fisheries officer has taken her case to an employment tribunal.

BBC Scotland has obtained a photo of the restraint incident.

It was taken by one of the men allegedly responsible.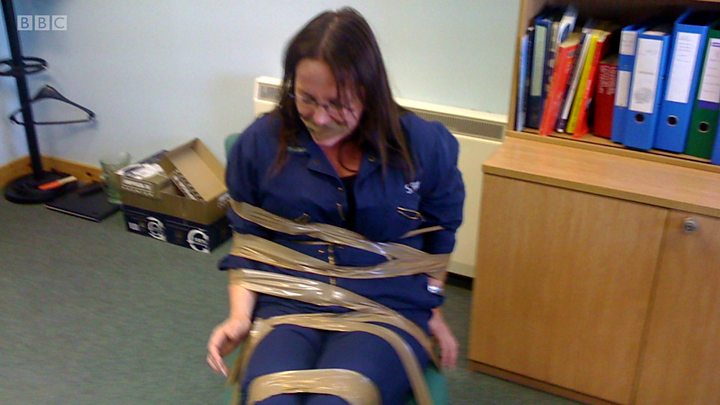 Ms Fitzpatrick, a Canadian national, said it happened in 2010 as a result of her blowing the whistle on a threatening and misogynistic culture at Marine Scotland's office in Scrabster, on the far north Caithness coast.
Well it certainly is a fine way to demonstrate a non-threatening and non-misogynistic office culture, to tape the accuser to a chair and tape her mouth shut and take a photo.
Rhoda Grant, a Labour MSP for the Highlands and Islands, has been supporting 49-year-old Ms Fitzpatrick since 2010, when a concerned colleague of the fisheries officer alerted the politician to the alleged treatment.

Seeing the photo for the first time, Ms Grant told the BBC: "It's horrific. I'm kind of speechless."

The MSP said she had been told it had happened but seeing the photo seemed to make it "10 times worse".
Oh well, it's only a woman.
Ms Fitzpatrick's sister-in-law Sherry Fitzpatrick told the BBC that the photograph of the restraint incident needs to be shown.

She said: "We were horrified. We were sickened. We worry about what this has done to her."
But it's only a woman. Move on.