2500 refugees
World Central Kitchen posted on February 3:
WCK's Chef Relief Team first opened a kitchen at the US southern border in Tijuana, Mexico in November 2018. Families, including many children, are fleeing violence, poverty, and instability in places like El Salvador, Guatemala, Honduras, and Nicaragua. Once the refugees get to the border to apply for asylum, they can be forced to wait up to a year for their case to be heard. Due to financial challenges or safety concerns, many families are unable to return home, leaving them stuck at the border while they wait.

More than a year after setting up our first kitchen in Tijuana, we have opened a second location to cook for and serve refugees living at the border in Matamoros, Mexico. Nearly 1,500 miles from Tijuana, Matamoros lies just across the border from Brownsville at the southernmost point of Texas. There are currently about 2,500 refugees living in tents in a camp.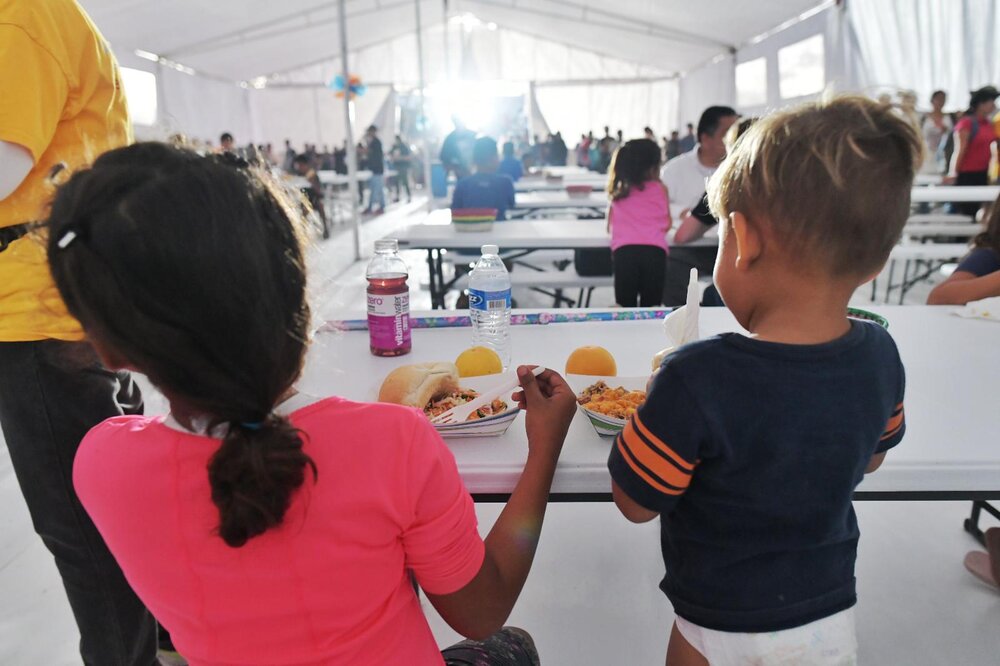 Prior to our Relief Team arriving, local organization Team Brownsville had been providing daily meals to the refugee camp. Now, we have partnered together to continue ensuring all families at the border have access to fresh, hot meals while they wait.

Each day, our team in Brownsville prepares a meal from our new Relief Food Truck. Here, Chef Elyssa is sautéing apples, sweet potatoes, and carrots in milk and buttermilk to serve with pulled pork and salsa verde!

Once the food is ready, our team fills up Cambros – the insulated boxes we use to keep hot food at the proper temperature – with trays of dinner and takes them to the bus depot where we meet with our lead from Team Brownsville. With the help of many dedicated volunteers, it's time to walk the food across the border. We cross the Rio Grande to get to the dining tent where we serve dinner to the families.
Good people doing a good thing.
Once we get to the refugee camp, we work closely with the families living there. Many of the kids like to help with cleaning the tent before and after dinner, as well as assisting us with handing out food during service.

…

Our team will continue to cook every day in Brownsville for families stuck at the border. These refugees have endured so much in an attempt to seek a better life for themselves and their children and they deserve the dignity of a delicious plate of food.

If you are in the Brownsville area and would like to volunteer with WCK, sign up here. Please note, we cannot provide transportation or accommodations for volunteers from out of the area.

If you would like to donate to support our efforts, please visit here.
When they say a delicious plate of food they mean it – World Central Kitchen is the brain child of José Andrés, that chef we've been hearing about using his closed restaurants in DC and NY to feed people.
Now for the bad news: the border is closing at midnight and WKC and Team Brownsville and all those volunteers are forbidden to cross the border. No more delicious plates of food for the people stuck in that camp in Matamoros.