It's almost as if there's a pattern
A different style of silencing in a different part of the world –
Sueko Urasaki, 82, who came forward as the "trembling girl" in an image from the Battle of Okinawa, was, according to sources contacted on June 25, visited by a man who made accusatory remarks doubting her story. Urasaki has been avoiding contact with the outside for the past year. There have been other similar incidents involving the individuals who testified to the mass forced suicides in Zamami during the battle. The lasting inheritance of the Battle of Okinawa has become a topic of late, and someone familiar with the effort to suppress the testimonials of survivors raised the alarm bell, saying, "We cannot allow survivors to become hesitant, hindering the lessons to be passed down from the battle."
That is, Urasaki was photographed by the US military during or after the Battle of Okinawa, and she has been a source of accounts of forced suicides in that battle. I know little or nothing about those forced suicides, and now want to know more. It's all part of the giant notebook of Appalling Things Humans Do.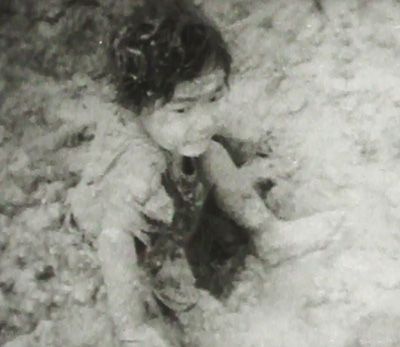 An unknown man showed up at her door one day to intimidate her.
Terrified, she began refusing visitors and refrained from going outside. Her relatives reflected, "Reliving the Battle of Okinawa was painful. She felt that the man's intention was to prevent her from spreading her story."

There were also incidents of people trying to suppress stories about the Battle of Okinawa in the past as well. Harumi Miyagi, 70, an Okinawan women's history researcher who compiled her mother's notes about the compulsory suicides in Zamami, has received hate mail, threatening phone calls and unwanted visitors to her home.

Miyagi's book was used as evidence when Japanese commanding officers from the battle filed a lawsuit against author Kenzaburo Oe and Iwanami Publishing for his descriptions of the compulsory suicides detailed in his book, Okinawa Notes, supporting their claim that, "They had given no such order." Miyagi did not intend her writing to be supportive of the officers' case, and released a new edition of her book that indicated "military orders" and the "compulsory nature" of the suicides.
So she received a lot of intimidation too, as did others.
In September of 2007, when a citizens committee was held to demand that the Japanese government retract their decision to downplay the Japanese military's role in mass suicides, a survivor of the suicides in Zamami was visited at home by two men clad entirely in black who demanded to know "Were you really there?" The survivor reflected, "I was unable to speak," but the fear stuck with them. They said of that time, "They meant to scare me to keep me silent. I have not forgiven them, but I refrained from making the incident public so as not to further incite them."
But the war ended 75 years ago. The people responsible for the mass suicides are all or mostly gone. Why are people defending them with menaces now?
Well. Why are people defending Confederate generals with menaces now?