Say "witch hunt!"
You know that photo of Obama and others watching the raid that got Osama bin Laden?
This one?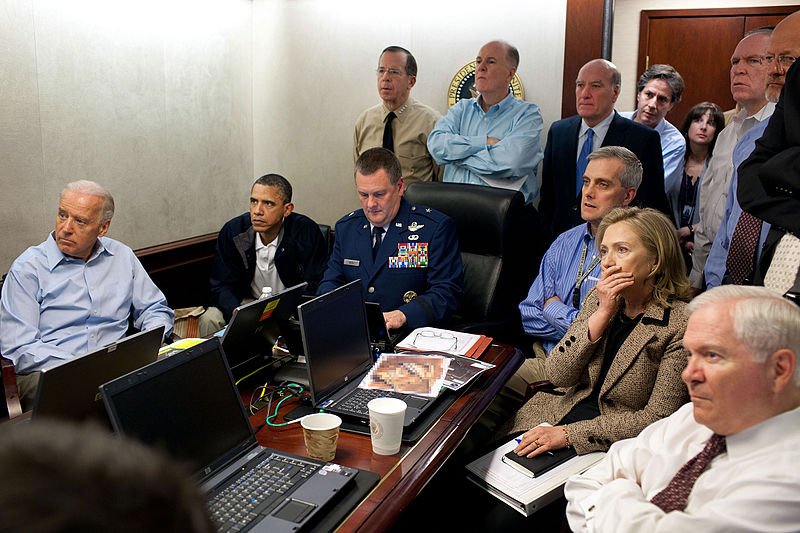 Trump is jealous of it. His people tried to fake one up for him but they didn't try very hard.
The chief official White House photographer for former Presidents Ronald Reagan and Barack Obama suggested the Trump administration was posing for Saturday's stern-faced Situation Room picture in the wake of a U.S. military raid that resulted in the death of a major ISIS figurehead.

Pete Souza, the former director of the White House Photography Office, called the timestamp of the Situation Room picture into question Sunday morning. Souza inferred that it's very unlikely President Donald Trump, Vice President Mike Pence and several top administration officials and generals were actively monitoring the raid on ISIS leader Abu Bakr al-Baghdadi's compound when the photograph was taken Saturday in Washington.
They mean implied, not inferred, but anyway, let's see it.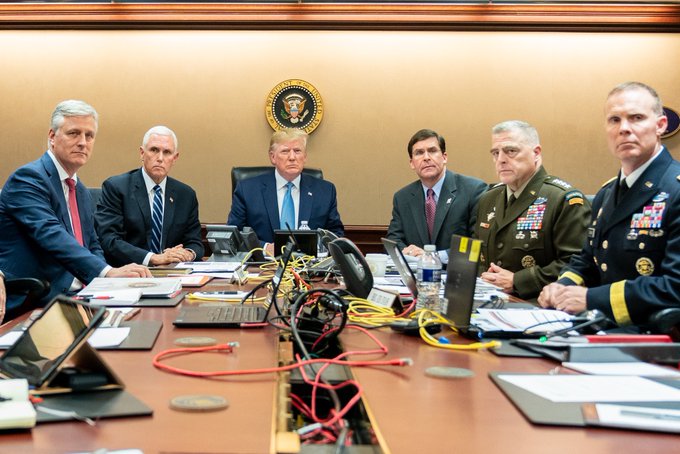 Oh no no, I'm sure that's not posed at all, everyone looks completely natural and unaware of the camera and just intent on…on…on that random bunch of wires not attached to anything, and on looking into the lens.
"The raid, as reported, took place at 3:30PM Washington time. The photo, as shown in the camera IPTC data, was taken at '17:05:24,'" Souza remarked on Twitter Sunday. He was replying to a tweet from White House Director of Social Media and Assistant to the President, Dan Scavino Jr.
Well, sure, because Trump was playing golf at 3:30, but the photo taken at 5:05 is totally real.
The al-Baghdadi Situation Room photo Saturday showed Trump; Pence; National Security Advisor Robert O'Brien; Secretary of Defense Mark Esper; Chairman of the Joint Chiefs of Staff U.S. Army General Mark A. Milley; and Brig. Gen. Marcus Evans, Deputy Director for Special Operations on the Joint Staff. All six men are shown in stiff, postured stances, giving squinted glares toward the camera.

The Trump photo is far more symmetrical and organized than the Obama White House Situation Room picture taken during the bin Laden compound raid in 2011.
That's because Trump's people have discipline while Obama's people were all slobs! It's not at all because the Trump picture was posed.