A lervly hike through the mountains
The Guardian reports that Princess Ivanka is being accused of hypocrisy for posting vacation snaps full of nature.
Ivanka Trump shared a series of pictures on social media over the weekend of herself, husband Jared Kushner and their children availing themselves of the natural wonders of Wyoming.

"Love. Wonder. Wander. Repeat," the president's daughter and adviser captioned in one photo, in front of a painterly backdrop.

The response to the photos, on the other hand, was not quite as generous of spirit, as various social media users piled on with a mix of attacks on her father's poor environmental record in office and other policies.

In another photo posted to Twitter, Ivanka showed a lovely hike through the mountains. "Where the wild things are…" she captioned it, referencing the book about a spoiled child who lives in a fantasy land.

Critics on Twitter and Instagram were quick to point out the hypocrisy at work, as just last week her father's administration moved to weaken protections for endangered animals. Ivanka is, after all, a top White House adviser to the president.
Hypocrisy, yes, but there's another thing.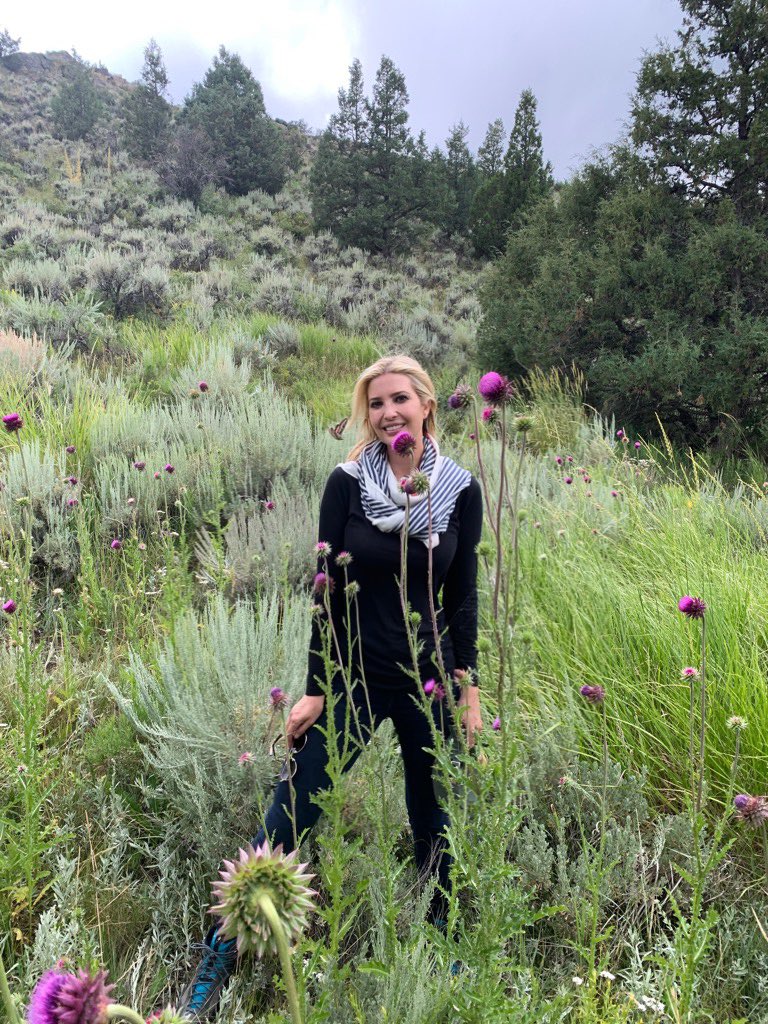 What dominates that photo? Not the landscape, but the dainty princess occupying the middle of it. She captioned it "Where the wild things are…" but it's not really about the wild things, is it, it's how pretty she looks in amongst them. That's fine for family snaps but she's a part of the government, an illegal part of a corrupt law-breaking government, and she's doing what she can to manipulate us.
She should go to Flint to pose for photos drinking the water.