Bigo was here, you bitch
Oh good, they found this guy. I wanted to see his ass busted.
A man photographed lounging with his foot on the desk in House speaker Nancy Pelosi's office in Washington as part of a pro-Trump mob that breached security and rampaged through the US Capitol was arrested on Friday.
"Foot" is kind of euphemistic for it.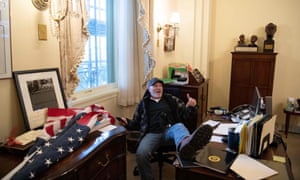 That's not just a foot, it's a big heavy hard boot, it's Orwell's boot stamping on a human face forever. That's a man brandishing his boot in the office of a powerful woman. That photo conveys so many messages it would take hours to list them all.
Richard Barnett, 60, of Gravette, Arkansas, was taken into custody in that state and, along with the West Virginia state representative Derrick Evans, who was also arrested, faces federal charges stemming from the siege of the Capitol on Wednesday, federal prosecutors said.

Barnett was arrested on federal charges of entering and remaining on restricted grounds, violent entry and theft of public property, according to a Department of Justice official, NBC reported.

…

The FBI has issued appeals for the public's help in identifying those who took part in the riot, who face arrest and court.

"Just because you've left the DC region, you can still expect a knock on the door if we find out you were part of the criminal activity at the Capitol," said Steven D'Antuono, the FBI Washington field office's assistant director in charge, at a telephone news briefing on Friday.
That is, just because you've left that doesn't mean you won't hear from us, or even though you've left you'll still hear from us.
Barnett shared his thoughts with the New York Times that day.
Barnett recounted stealing an envelope from the Democratic House speaker's desk.

"I didn't steal it," Barnett told the reporter. "I put a quarter [25c] on her desk, even though she ain't fucking worth it, and I left her a note on her desk that says, 'Nancy, Bigo [his nickname] was here, you bitch.'"
And here he is saying it.
Barnett leads a pro-gun rights group in Arkansas and according to the Washington Post had identified as a white nationalist in a Facebook post days before the riot took place.
He also hates women.
Derrick Evans, a newly elected Republican member of the West Virginia house of delegates, part of the state legislature, was taken into federal custody, with a reporter for the local NBC affiliate WSAZ sharing a video of the event.

On Wednesday, Evans reportedly filmed himself storming the Capitol, shouting: "We're in! Keep it moving, baby!"
"Reportedly" plus here's the video.
Representing West Virginia.